Today's class leads to a change in the pecking order for my dogs. We have decided to have Dynamite work the tracks first and then run Dixie shortly afterwards. This is being done to help both dogs. From Dixie's side it should give her a well scented track however it will also give her some natural cross tracks anytime that Dynamite may wander off the track on her run. This plan seemed to work well for Dixie as she spent much less time casting. This is also Dixie's first time working on a harness and longline which is forcing her to take the lead and make decisions without checking in with me.
I expected this track to really challenge her for a couple of reasons. First it has several left turns which can cause Dixie problems due to her casting motion across the track and her tendency to work to the right of the track. I could also see her getting fooled by any Dynamite laid cross track to the right for the same reason. Working on the long line could increase those errors as she could get much further "off" track before knowing it. It will also be interesting to see what the kind of challenge the cover change presents her will at a distance. We have done this at home but I was right there to support her choice.






I was pleasantly surprised with Dixie's performance this week. First she adapted very good to using the harness and longline. She took charge and headed up the track. It was by far her most serious tracking so far. She did very little casting and instead put her nose to work and pulled me down the track. She nailed the first to dog leg turns without problems only briefly stopping for her treat. The next turn was a 90 degree turn to the left, her weakest turns so far, but this time she was dead on without hesitation or looking back to check with me. She was very happy when she found her reward shortly after that turn. It seemed to be an "I Got IT" moment for her. She moved from the grass to the corn without any problems only briefly moving off the track t the same spot that Dynamite had wandered as well. She quickly recovered leaving that path and returned to work. The next turn was a 90 left just after leaving the corn. Dixie was casting, maybe trying to confirm the change in cover, and missed that turn. She made a quick circle around to the right and picked back up the scent, no barking or scratching as she normally does when confused. Again she was quickly reward for recovering as she found her Food Drop. Then it is a straight leg toward the glove. Just about half way down the leg she jumped off the track about five feet to the left and stuck her head through the snow and into a hole. This only took a second and she was right back up and on the track pulling me to her glove. She was very excited to have finished her job and got rewarded with both the cookies and a quick game of tug with the glove.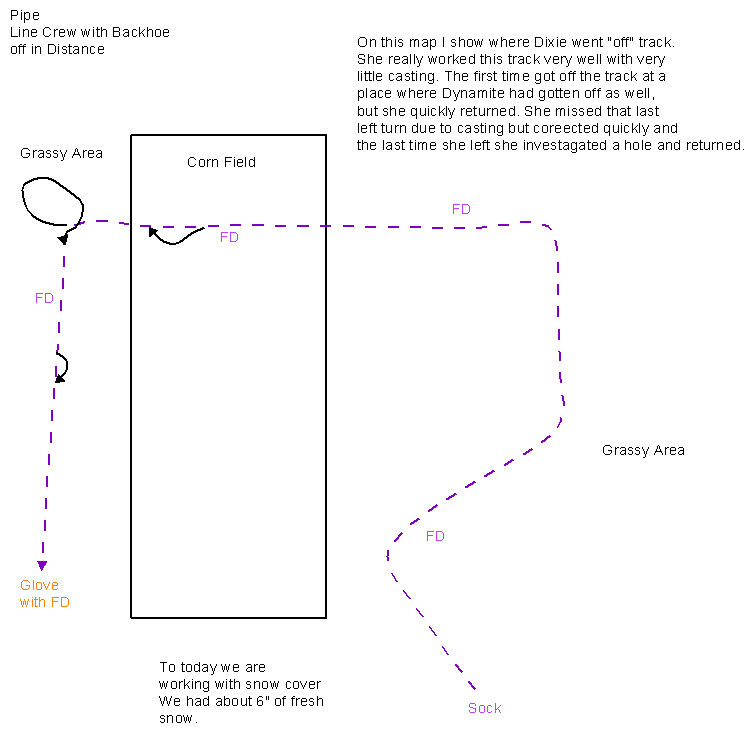 This was a very successful track for Dixie, perhaps her best at class. She was much more focused than the last couple weeks and seemed to enjoy being out there leading the team. I am very proud of both my tracking class dogs they are making these cold Monday's a lot of fun!
Happy Tracking!