Day nine of weave training for Disco brings us to a Monday. During the day I take the other dogs tracking and then Monday evenings Disco and I go down to Barto for me to teach or evening classes there. Disco loves to come along anywhere I go, even if he does not really get to play. There are several of the tracking group students that are getting ready to learn the 2 X 2 weaves so I decided to take Disco along to do a quick demo of just how far he has come. I only took the three 2X2 bases that I have to use for the quick demo. This was not really a training session but it was some extra weave work in a totally new place. Disco ROCKED! He did a great job in this new place weaving off both sides and with pretty good distance. He also allowed me to show the others some of the proofing I have been doing by spinning while he was in the poles.
My "drop in" classes tonight are supposed to start at 7 pm and there are no other classes scheduled for tonight. I decide to head down early to give me enough time to set up for class and work Disco on a more challenging weave exercise. I also bring Daphine with me in hopes of starting her on some 2 X 2's to demonstrate the plan to some of the novice handlers. However when I arrive at 540 Pm the building is freezing and the ring is full of equipment. There are nine tunnels and a bunch of winged jumps. So I end up spending most of the time before class either moving equipment out of the ring, setting up a new course, or standing under the heater to thaw out. I had set up several sets of 2 X 2's and jumps outside the ring but around 6 Pm a bunch of people started to show up for a make-up obedience class. As it ends up this class goes on until very late so I never do get to use those weaves or jumps so Daphine and the novice people do not really get any real good weave work in. I do get Disco out and work him as my students start showing up. This is really good for him as he has the added distract not only of weaving in a different place, surface and with a different base but he also has a bunch of dogs he does not know coming in and out.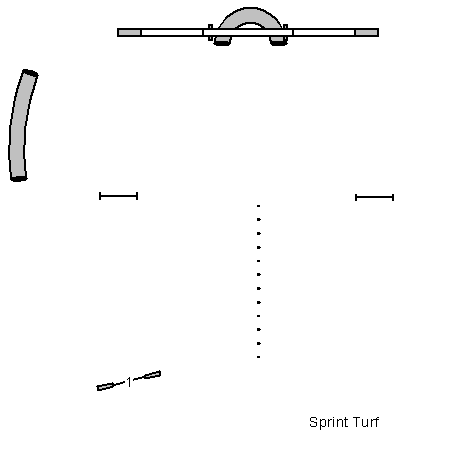 As you can see, this set up also allowed me to include the weaves in several different sequences and not just from a jump. This increases the challenge by presenting the weaves at several different angles and speeds. There is also the added temptation for the dog to pull out of the weaves when headed toward that tunnel. Here are a few of the approaches I gave him:
In addition to these sequences I also worked some distance with him both using and out and a back from outside of jumps 4 and 7. For any of you that do agility will see all these are not routine entries that you would expect of a novice dog, let alone a dog that had been only doing weaves for a little over a week. I continue to be totally amazed by this system and cannot give a higher recommendation to purchase Susan Garrett's DVD. It is really a great resource for anyone that is looking for a way to teach weaves or trouble shooting your competition dogs weaves. Even if you are not planning on teaching using the 2 X 2 it is a great resource to help you design challenging sequences and provide added proofing of your dog's weaves. We are now moving on to more advance work and advance proofing of his commitment and understanding of the weaves. At his point Disco is a weaving dog. It will be interesting to see how he does them at the DOCNA trial this weekend, but he has a clear understanding of his job and loves to do it. I am hoping to apply the things I learned and all the training ideas I gotten to each additional piece of equipment and training challenge. Again, his training of weaves is not done but I can no longer say he does not know weaves. He does not have a weave command as I yet to give this whole thing a name yet. 
 Guess that should start soon!
Now "Go Weave"