Disco had been excited about going out to weave all day today. I finally gave in at around 330pm. We did get about 6 inches of snow yesterday and it is very chilly and windy outside but sometimes you got to do what you got to do! So I put on the boots and jacket and headed outside for today's session. We do some tugging as we head toward the training area; it is not nearly as slippery as it was yesterday. I have Disco favorite tug toy, no stick today, and some great tuna brownies.
We start off by reviewing the exercises we did yesterday. Disco is on fire finding his entries and driving quickly through all the poles. He is holding his head low and focusing straight ahead on those poles. He is even getting a little better at returning with the toy instead of playing keep away. I have got to do some work teaching him to come to me with the toy when I toss it and after his runs in general. At his first trial it became a big issue for me to catch him after a run. He was a little bit better at the second trial with me giving him something to focus on while I caught him but we will need to come up with an end of run routine that allows me to get him back on leash with struggling. That will be a problem for another day. He is really doing a nice job weaving today hitting all the entries from yesterday session and getting some nice speed in the poles.
Today I am going to add in a tight command, wrapping the dog around the jumps for a very late and awkward approach to the poles. The tight command is one of the first things I teach my dogs when starting out in agility. It helps give me some control over the dog as we finish sequences. I am hoping I can get Disco doing a nice tight so I can use it to "catch" him at the trial next weekend.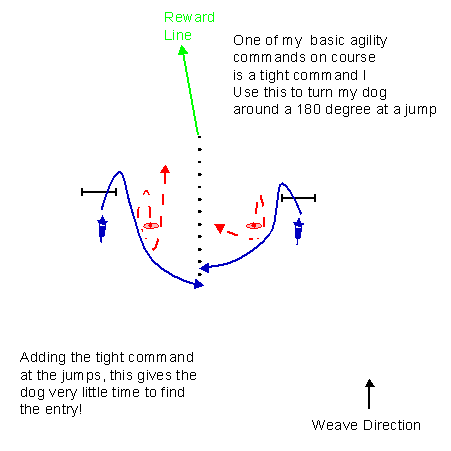 Disco does a very good job doing a tight around the jumps which is not an easy task in the snow. He is very aggressive finding the entry and he continues exploding through those poles. He is almost 100 percent on both entries and completing the poles. It seems he is getting faster with each attempt. He still is still figuring out the footwork and I look forward to setting up some 2 X 2 down in Barto this week to work on his footwork. Next I am going to add a back command, basically doing a rear cross and then send Disco forward to the weaves while I stay behind the jump. This is great practice for gamblers classes and also presents some big challenges for the dog that must move forward without me to the weaves and then stay in the poles with me in his vision, ahead and pretty far away.
The first couple times I tried this from the off side Disco stopped short or pulled out of the poles. He stayed upbeat and continued to try. Once he figured it out he was right back to working that entry and driving the poles to the end. I was surprised the he did not have much trouble with this exercise with onside weaves. I really expected him to have more difficulty with the entry from this side. I figure he would pull up short and be tempted to enter at the third pole. But he seemed to have no problems understanding his job. We finished up by dong a couple of rear crosses with pretty straight on entries working on his understanding of the need to stay in the poles even when I do some crazy things. He did a couple spins the first two times I tried this but then he figured it out and just drove ahead doing his job.
I remain very amazed at not only how far he has come in a very short amount of training time but how much he improves from the end of one training session to the start of the next. All of our training sessions have been short. No more than 4 or 5 minutes and that includes the time we spend playing and getting the toy back between each attempt.
Now "Go Weave"